Origin and history
Banarasi saree is excellent craftsmanship brought by the Mughal's expert craftsmanship in India. Mughals also make efforts to glorify the art of designing and weaving. During the act, they inspired a few craftsmen to the intricate art of weaving. It was the beginning of saree weaving art and the making of designer sarees. In addition, at that particular time, Persian motifs were being mixed up with Indian traditional outfits.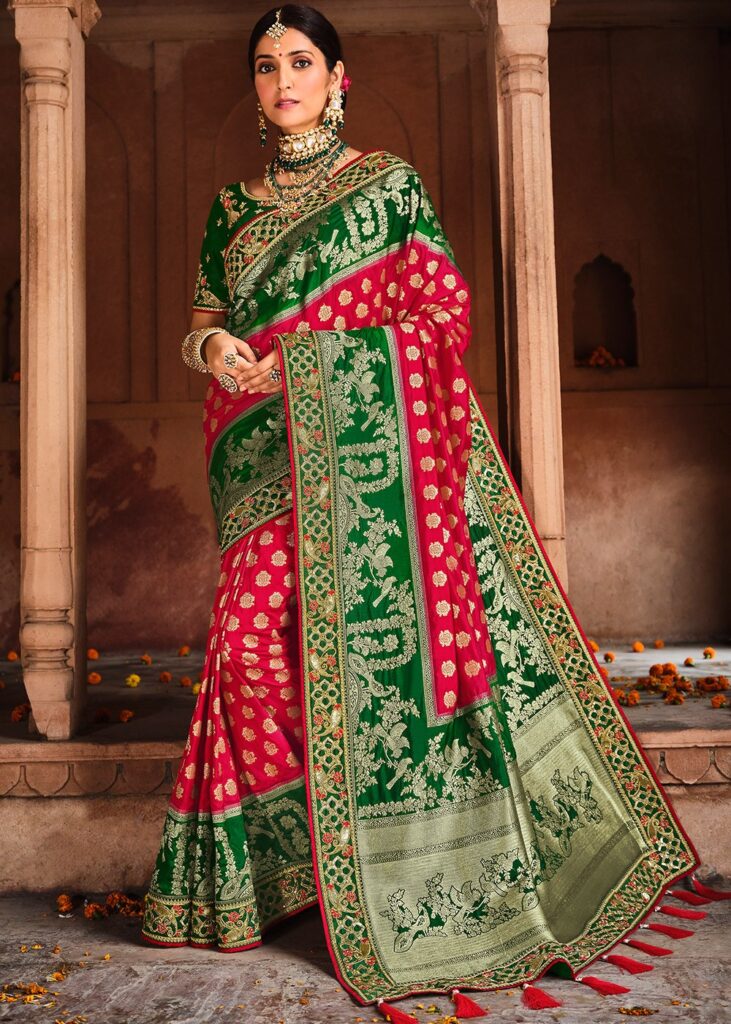 Today, the Banarsi saree is made of two different cultures and the exemplary craftsmanship of the Mughals. Earlier, the silk used for making Banarasi saree was imported from China but now it is produced in the southern part of India. The art and culture of Banarsi silk are very ancient. Also, the passage of the Banarsi culture to one generation is stopped. Persian motifs are used to create floral patterns of the Banarasi saree and manufacturers are creating innovative Banarasi saree and making more vibrant and lustrous Banarasi saree.
What are Banarasi sarees known for?
Banarasi saree is best known for its lustrous beauty by Indian women and always wins their hearts. It is adorned by ladies of different religions, casts, and nationalities. It shows your class and luxury for the event. Being a popular outfit, the Banarasi saree is considered the best wedding outfit for women. 
4 different types of Banarasi saree which you must have in your wardrobe:
Korial Banarasi Saree
The word 'Koria' is derived from the Bengali language which means 'spotless or white'. You can also understand it as an enhanced version of the Garad saree. Koria Banarasi saree has jaw-dropping borderwork and is often considered the perfect traditional Banarasi saree. The attractive design on the all over and borders along with golden work makes it more appealing.
Pashmina Banarasi Saree
Pashmina Banarasi saree wins the heart of every woman due to its wide range of colors. Most of the Banarasi sarees have golden buti work and zari work on the border too. As we know colors play a crucial role in wedding ceremonies and thus considered one of the best saree for family functions. Metallic artwork and elegant silk weaves are added for an elegant textured look for these sarees.
Traditional Banarasi Saree
Indian traditional Banarasi saree is the most loved and famous bridal wear. It is a traditional wear or trend of matching and mix of pure silk with other garments such as georgette, net, shimmer, and more. Traditional saree comes in a variety of designs, colors, patterns, and embroideries such as designer Banarasi saree, cutwork saree, and embroidery sarees.
Tanchoi Banarasi Saree
It is the saree that involves a single or double wrap and two to six colors on the thread which are often of the same color on silk fabric. One of the unique factors of this saree is that it is a class apart from small weaving patterns on the fabric, eccentric hand-stitched peacock, flower or sun, etc. In India, Upper-class women have a craze for the Tanchoi saree and their favorite saree for wedding ceremonies, formal occasions, and festivals. Banarasi silk sarees are an integral part of the Indian bride's outfit. Banarasi saree's different looks inspire you which traditional look will look best on you. If you are confused about which saree to wear for your important wedding event, wear a Tanchoi saree for a royal look. Nowadays, you can buy a saree online and choose from a wide range available. Also, there is a trend of saree and banarasi dupatta these days in wedding events that will suit your personality.
Apart from that, if you are interested to know about Banarasi Silk Sarees: History and the best blouses to pair with them then visit our fashion category.