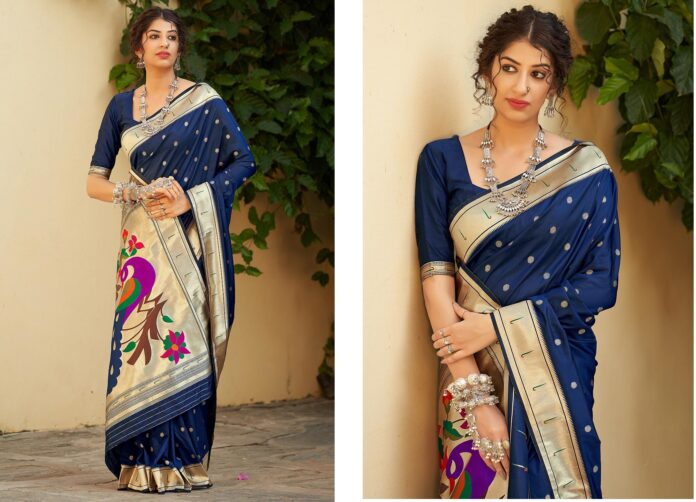 It is said "Banaras is older than history, older than tradition, older even than legend and looks twice as old as all of them put together" so is the Banarasi saree. Let's have a look at how this masterpiece is made.

How is the Banarasi handloom made?
A Banarasi saree typically takes 15 to 30 days to weave. Nevertheless, it depends on how intricate the patterns and designs are. This saree typically requires the work of three weavers. A saree is woven by one person, bundles are handled by a second person using a rotating ring, and border design is done by a third person. The Banarasi Silk saree is a collaborative effort. It should have around 5600 thread wires, each of which should be 45 inches broad. The artisans create a foundation that is 24–26 inches long. At the bundling stage, the theme design process begins. Depending on the dimensions of the jacquard, silk warping threads are set on a framework in a repetition pattern on a pit loom, which is generally used to manufacture the fabric. The delicate patterning was once produced with a jangla rather than the modern jacquard. According to the required design, the weft is arranged in some kind of a shuttle to create the fabric's foundation while the pattern is created using smaller spindles that have additional wefts twisted with zari. In the first century, the Buddhist scriptures and the Mahabharata both made reference to Banarasi silk, whose roots are deeply ingrained in India's rich cultural past. Each silk sari was originally made just for the aristocracy out of genuine silver and gold threads, and it may take up to a year to complete one.
Types of banarasi sarees and blouses they are worn with
Traditional bridal and fashion sarees are the two main divisions of Indian sari. Because of its many textures, hues, and patterns, Banarasi Silk sarees are a favourite among brides and are worn with different kinds of fashionable blouses depending upon the occasion and the events that they are supposed to be worn in. Here are the various kinds of blouses that they can be worn upon.
Blouse with embroidery
These highlight the splendour of your bridal Banarasi saree as well as the bridal ensemble as a whole. Numerous options are available for embroidered blouses, from elaborate stonework somewhat on sleeve and neckline to conventional motifs and painting on the sleeves.
Sleeveless Blouse
A number of celebrities have worn sleeveless blouses with their traditional Banarasi sarees. You can never go wrong with a straightforward sleeveless blouse, whether you are complementing your royal banarasi sari or choosing a contrast colour. Always use simple material over patterns in order to achieve the desired effect.
Blouses with brocades
With their simplicity and graceful vibes, brocade blouses are ideal for the understated party appearance, especially when coupled with the gorgeously embroidered Banarasi. Brocade blouses are an excellent way to up your style quotient, whether you wear a matching one maybe mix it up with opposing hues.
Blouse with a contrasting color
If you want to mix and match your designer sarees, choose a blouse that either matches the lighter shade of your saree or entirely distinct from it. An excellent illustration would be to pair a hot pink shirt with a regal blue Banarasi featuring floral designs. You might also pair the soft blue saree with a sage green blouse. But make sure the colour you pick goes well with the hue of your saree.
Summing Up
It might be difficult to get an authentic banarasi silk saree online. One is easily tricked. You need not worry about this, though, if you shop at the proper retailer. One of the top online retailers of banarasi sarees is Like A Diva, which has a large selection and skilled craftspeople. The sheer number of patterns offered in various fabrics, such as cotton, etc may leave you perplexed as to which one to choose. Banarasi sarees when worn correctly and with proper plating and the colour contrasting blouse gives you the must desired royal look and grandeur.