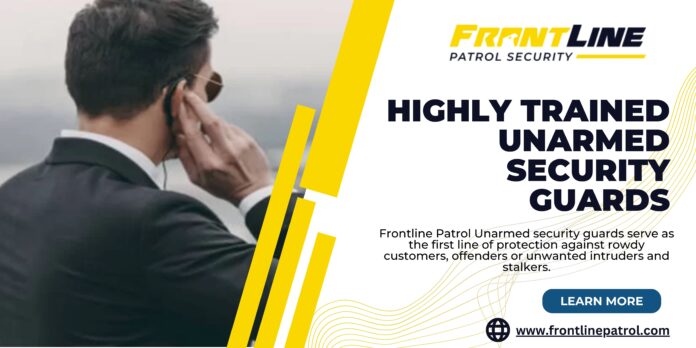 Many organizations hire security guards to protect assets and provide peace of mind to their customers. However, certain entities prefer unarmed security guards and find them more effective for their respective businesses.
Unarmed security guards maintain a safe and secure environment at businesses, organizations, and residential properties. They patrol premises, perform access control, and investigate disturbances.
Some of the potential benefits of unarmed security guards are given below:
1.Create a safe environment:
Unarmed guards give the impression that the entity in question is serious about protecting their assets but is committed to doing so in a subtle and calming manner possible. As a result, unarmed security guards are a great way to keep your business safe.
2.Proved better deterrence level:
Security guards are well trained to better protect against a potential criminal activity with great efficiency as armed security guards. Having their presence gives a layer of better protection. The visibility of security guards around a specific area gives visitors a sense of protection.
3.Fulfill the role of gatekeeper:
They control access to those who enter a specific building or establishment. Some keep a record of the identification of visitors by asking them to present documents or identification cards and taking note of vehicle identification. They also monitor security cameras for anything unusual taking place. They must stay alert and vigilant for anything suspicious and use their discernment when calling for assistance.
Unarmed security guards are also responsible for maintaining order among people during large gatherings. They safeguard not only people but also properties.
When There Is a Threat situation?
When a situation escalates into violence or when there is any probable cause for arrest, unarmed security guards are trained to restrain a person temporarily. Then, he would contact the local police to respond.
But when criminals are carrying deadly weapons, security would certainly need the help of local police officers. It calls for discretion and good decision-making, especially because a delay in intervention might mean loss of lives. Thus, in any difficult situation, an unarmed guard must quickly get help from the authorities.
Additional Responsibilities of security guards:
The duties and responsibilities of a security guard are not limited to guarding, monitoring, patrolling, and notifying authorities in case of any criminal behavior. In some instances, they may be asked to perform special tasks such as running errands, responding to text messages and phone calls from one's employers, and other additional responsibilities.
In addition, some unarmed security guards are hired for a specific purpose, such as working with people responsible for safeguarding cash or other valuables. Their job is to protect the valuables during transport.
Frontline security is here to meet your security needs. Whether you require armed or unarmed security for personal use or your business, your safety is our top priority. Our highly trained and qualified guards operate with integrity, expertise, reliability, and responsiveness. We want you to feel safe and protected, and our armed and unarmed guards can do the job.